Note: This is Windows only.
MetroTwit is a new twitter client with a user interface inspired by Windows Phone 7. Anyone who has used TweetDeck will instantly be familiar with the UI, but while TweetDeck is meant to be a one stop shop for all your social needs, MetroTwit takes the opposite approach, focusing only on Twitter and the need for a clean UI.
MetroTwit has all the features you've come to expect in a twitter client. Infinite scrolling, auto complete for usernames and hashtags, and even customizable themes. Did I mention that MetroTwit is ad free? (See update) Though the best feature MetroTwit has to to offer is something I like to call "Secret Following".
The best way to describe this feature is with an example. Lets say their is someone you want to follow, but you don't want them to know that your following them. Every user on twitter has an RSS feed, which you could subscribe to using your favorite RSS Reader (i.e. Google Reader). This would allow you to view their tweets without them knowing.
However this isn't exactly ideal because instead of going to Twitter you have to use Google Reader to see what that person has said. You also won't be notified of any new tweets. That is where MetroTwit's Pinning feature comes in. You can search for someone using MetroTwit and then when you find their account, just click the push pin in the upper right corner. That person will now show up in their own column and you will be notified of any tweets they make. Lets look at what it looks like for me to secretly follow Tim O'Reilly:
The first thing you'll notice is that I don't show up as one of Tim's followers. The second thing is that in the taskbar I'm notified of new tweets, including Tim's.
And if you have desktop notifications enabled, you'll be notified the second a tweet is made.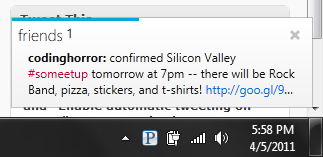 However I do have some gripes with MetroTwit:
For whatever reason, the UI locks up every single time you log in to twitter. I understand that it has to communicate with the Twitter API and log me in, but why on earth wouldn't I be able to minimize the application. This needs to be fixed, now! Luckily if you leave MetroTwit open in the system tray you only have to deal with this once.
It is able to expand shortened URLs, however the only one I have seen it work with is bit.ly. At the very least support needs to be added for goo.gl and t.co. There are technical limitations though and it's impossible to work with all URL shoteners.
No JumpList support. This isn't a major problem, however it would be a nice bit of polish.
All in all MetroTwit is an excellent twitter client. With it's simple UI and "Secret Following" it has become my primary client. What's your favorite Twitter client? Let us know in the comments!
Update: GoldenTao (one of the makers of MetroTwit) has told us that there are plans to add advertisements,  but it will only be one add in the top column and the ad can be moved to a column that you rarely use (like direct messages). They will also be releasing a paid version to remove the ads and add new "Plus" features.