College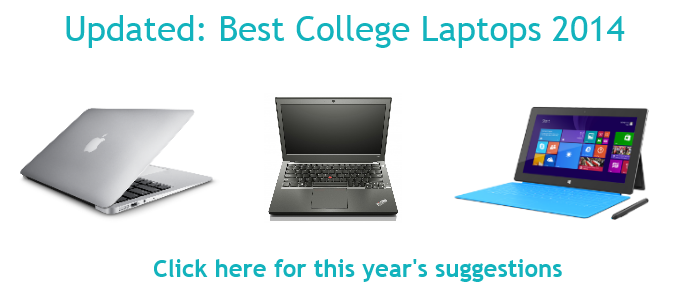 Note: The laptop recommendations below are over a year out of date. The 2014 Best College Laptops list has this year's up-to-date suggestions.
'Tis the season: as family and friends head off to college, the requests for laptop recommendations start rolling in. It's a semi-annual tradition for me to blog about my recommendations, so let's get started! If you haven't seen my 3 part series on "choosing a computer for college", check those posts out for some good background info that's mostly still relevant:
Since I wrote those articles in 2011, the computing landscape has shifted dramatically towards tablets, slates, and a plethora of weird hybrid devices. I'll be splitting up my recommendations into several categories: primary laptops, for students who plan to have a single laptop for all their needs; primary tablets, for students who plan to have a laptop-grade tablet as their primary device; and companion devices, for students who plan to have a desktop or desktop replacement, but want a small, light, and cheaper device for carrying around campus.