I have been using the Windows 8 Developer Preview for about 5 months or so and in order to install it on my PC, I had to create a rather small partition on my primary hard drive consisting of only about 16GB. Thankfully, a clean install of Windows 8 will fit comfortably within that space and still provide enough room for some basic utilities and drivers (of course, I do have other secondary partitions that I use for installing applications).
During the installation of a particular application, the free disk space on the partition dropped to about 28MB. One of the users over in the Root Access chat room suggested that I try filling the disk until it is completely full and then blogging about what happens – hence this article. I was a bit reluctant at first since I didn't want the hassle of reinstalling anything if it became corrupted somehow, but since I have up to date backups of everything, I decided to proceed anyway.
The first step was to run Disk Cleanup to make sure that the disk wasn't full of a bunch of transient temporary files or something silly like that. Then the next step was to actually fill the disk. This sounds like an easy task, but Windows is pretty good at preventing the disk from becoming full in the first place. After filling the disk to within 500KB, I suddenly discover that Windows has managed to free 300MB on its own. This shocked me because I had just run Disk Cleanup and there was (as far as I was concerned) very little that Windows could remove. I did however receive a notification in the system tray:

I began filling up the remaining 300MB of disk space with more files and finally managed to get the disk to 0 bytes of free space for a brief moment: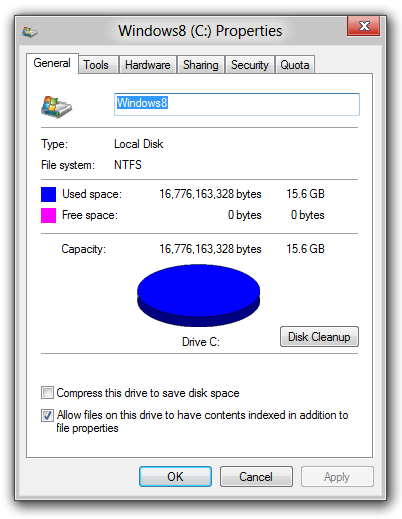 As you can see, the drive is completely full. But not so fast – I had hardly finished doing this when Windows somehow (miraculously) managed to free up another 308MB of space on the drive. I was beginning to wonder what was getting deleted at this point since I had no idea what was on the disk that took up so much space yet was not needed and could be deleted. Still puzzled, I filled the disk up once again and began launching programs and doing things that I would normally do to see if anything was broken or wouldn't work. The results were quite interesting.
The first application I tried, Notepad++, was completely unhelpful since it would happily report that it saved a text document – only to find out later that it had silently failed and created a completely blank document. Another text editor, PowerPad, was a little bit more helpful when trying to save a file when there was not enough room:

The error message does contain the root of the problem though the additional technical details aren't really helpful to an end user. When trying to save a web page with Internet Explorer 10, I was pleasantly surprised to see the following: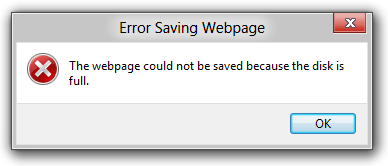 This error message was simple but completely accurate – a very good example of what an application should do when it encounters such an error. I began to try a few other applications and all of them were able to at least start without crashing or running into an unrecoverable error. iTunes was able to load my library and play / stream music though it did warn me: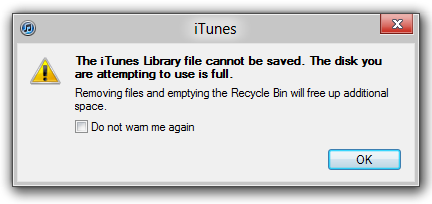 Some more experimentation revealed little other interesting results – applications worked fine until they attempted to write to the disk in which case they would present some form of error message (well, all except for Notepad++). However, I was surprised to discover that every time Windows tried to scavenge some free space, it never touched the recycle bin which had about 30.1MB of data in it. I would have thought that would be one of the first places Windows would look to free space.
After I was satisfied that my experiment was finished, I deleted all of the files I had used to fill the drive and I am sure I heard the PC breathe a sigh of relief as free disk space shot up to a more reasonable number.
In closing, I would like to share a rather curious message that popped up once I had finished with my experiment and was deleting files: