I've read it countless times: flashing your router to DD-WRT to get more control over it and unlock more power. Sounds great, but how often do regular users actually end up doing this? Probably not that often. I've always held it off, because the risk of bricking my router never seemed worth the trouble. Besides, my networking skills are mediocre at best, so I never felt the urge to unlock even more settings! However, when I tried to open up Calibre and use its internet sharing feature, it turned out that my generic router was virtually unable to be set up properly. So today, I'm biting the bullet and will actually try to flash my brand new Netgear WNDR3700 router to DD-WRT, because surely if I can do it, anyone can!
Netgear WNDR3700
Because we're all geeks, I'm sure you're interested in what features the Netgear router has to offer. Well there are several features that make it attractive:
Gigabit Ethernet ports, which make for very rapid sharing between my (wired) computers at home. Though its too bad my Xbox and PlayStation don't support it, which would make streaming more awesome.
Dual Band, which you should use if the standard 2.4 GHz Wi-Fi band is crowded in your area. Switch to the 5 GHz band for some unclaimed territory. They get sent out concurrently, so you just pick whichever gives you the best connection.
ReadySHARE USB, so I can hook up an external HDD which means my computer doesn't have to stay on when streaming to the consoles.
It also comes with a pretty beefy processor (for a router that is): 680 MHz powerful MIPS 32-bit processor and plenty of memory: 16 MB flash and 64 MB RAM. All this comes with a 85€ (about $120) price tag, which isn't bad compared to some of the other routers – such as those from Linksys.
DD-WRT
For uninitiated, here's a description from dd-wrt.com about what it is:
DD-WRT is a Linux based alternative OpenSource firmware suitable for a great variety of WLAN routers and embedded systems. The main emphasis lies on providing the easiest possible handling while at the same time supporting a great number of functionalities within the framework of the respective hardware platform used.
Basically you trade this poorly designed stock interface:
For something more elegant and functional: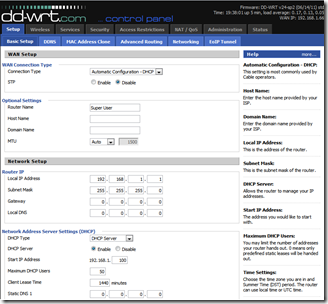 Though I must admit, Netgear's own firmware provided all functions you'd expect from a high-end router. But compared to the generic router I upgraded from, DD-WRT surely provides a wealth of functionality. More importantly, it allows you to tweak the entire router the way you want it to be. Heck, you can even boost your antenna's power!
Flashing the firmware
Now, I do have some experience with flashing devices, since I installed new firmware on nearly all my smartphones (Qtek 900, HTC Hero and HTC Desire HD). Luckily for me, flashing the router doesn't involve any unlocking and switching bootloaders. A quick search for "Netgear WNDR3700 DD-WRT" directly gave me a great tutorial.
Basically it involves the following steps:
Download the new firmware for the correct version. Most routers come in several version and not all support DD-WRT.
Make sure you are connected to the router with an Ethernet cable. Then upgrade your firmware through the stock firmware web interface. The process will take a few minutes.
Perform a "30/30/30 reset". I had no idea what it was, but it's really simple: Hold the reset button under the router for 30 seconds and do not release it. While still holding the reset button unplug the router and leave it unplugged for 30 more seconds. Still holding the reset button, plug the router back in and wait for yet another 30 seconds.
Power cycle the router: Unplug it for 30 seconds and plug it back in, or use the switch. Installation is now complete.
It wasn't entirely clear to me whether it had succeeded, but I was actually chatting in Root Access when I was flashing the firmware and I could simply keep chatting until I did the 30/30/30. I'd say the flashing process gets a 10/10 for ease of use!
Performance comparison
Just to check if there would be any difference in performance I performed two tests: I mapped my apartment with HeatMapper and used inSSIDer to test the signal strength in the furthest corners.
Here are the HeatMapper results (left is the stock firmware, right is the new firmware).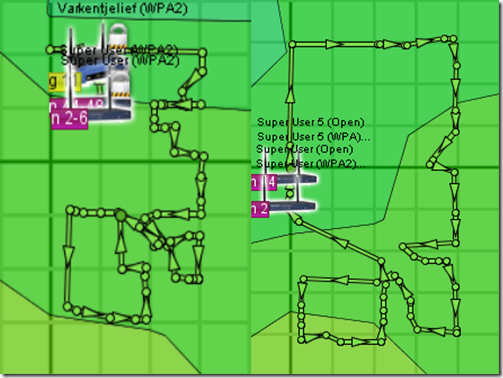 I probably made a small mistake while making the comparison, because I slightly moved my router after the resetting. The reception at the bottom ends are in the bedroom and toilet, while it seems I had slightly worse reception at my bed, I believe the difference is negligible.
The signal strength around the house (old vs new):
Center Left (computer) = 30 vs 30
Top left (living room) = 45 vs 35
Top right (living room) = 35 vs 36
Bottom left (bedroom) = 48 vs 50
Bottom right (bathroom) = 50 vs 47
Graph of the signal strength while on a route through my apartment with the new firmware:

Clearly the difference with the stock firmware is pretty small, but the reception overall is very good and much higher than my neighbor's signals. I don't really feel the need to turn up the dials, though it might be useful to put my router higher up so it has less obtrusion.
Conclusion
While it may seem like a difficult thing to do, flashing your router can be a piece of cake. For anyone who dislikes the stock firmware and wants to unlock every possible setting of their router I can definitely recommend flashing it. I'll try to use my new features in another blog post when I'll focus on sharing files through Calibre.
As for the Netgear WNDR3700 – if you're looking for a gigabit dual band router for a reasonable price – then I can certainly recommend it. I've been using the router for nearly a month now and haven't had any signal problems. My girlfriend is very happy with having Wi-Fi signal on the iPad around the apartment. I haven't made any use of the gigabit connections or the 5GHz mode yet, but it's good to be somewhat future proof!
If you want me to try anything, leave a comment and I'll try to incorporate it in my next post.