Hardware, that single thing every techie could likely go on for hours about. Being myself, I'm a tad out of date as usual, but I did get to have a neat experience that nearly tipped my inner nerd over the edge.
I took a trip with my class to a local college, into a course called "Game Engine Development." We were using UDK, the Unreal Development Kit for the entire day. Now at home, I had tried this before, on my computer, which is:
Intel Core 2 Quad Q8300 @ 2.5 GHz
4GB DDR2 RAM
nVidia GT 220 (1GB)
Plain old stock coolers
We walked down an empty hall, to a plain white down. Entered a room, unlit. Then with the flick of a light switch, my mind was blown. A room, filled with monitors. Nice Dell ones, 23 inch at my guess. At first I thought we might be a little squished together, the monitors seemed close. But nope, it was dual monitors. Being stuck with just a 20 inch single monitor at home, I was instantly enthralled. I sat down at a chair, and looked around, seeing where my computer was. Under the desk, what I had originally thought was a cooler, was actually an Alienware Computer. The Area 51.
Now this is likely where most of you say "Wait, Alienware? Overpriced and overrated, get off my blog!" But hear me out; this was a great moment for me. Powering it up, it was silent. We often like to say silent, but really there's still that fan noise. With some liquid cooling, and a 50 pound case, I wasn't hearing much from this monster.
Once we got on, I instantly popped open the specs, wanting to see just how monster this thing was. Remember my hardware at home? The moment I took one look, I was done. This was a monster, like none I'd ever seen.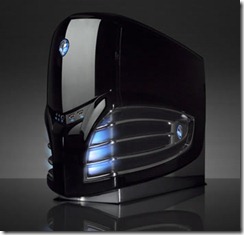 (2) Intel Core-i7 960 @ 3.2 GHz
(2) ATI Radeon HD 5970 4GB RAM
12GB Triple Channel DDR3 RAM
Liquid cooling
Ventilation control
If you don't know what the ventilation control on the Area 51's are, it's quite impressive. Getting a bit too hot inside? Vents on top open like gills, letting the air out, then close up again. I fired up UDK and spent a good 8 hours on it, not hearing it once.
Returning home to my old machine wasn't quite the same. But getting to use hardware like that; priceless. No pun intended.