In this edition of the Battle of the Giants, we look at both Google's and Microsoft's online document editing programs.
History:
Microsoft has been in the market of document editing software from the inception of Windows 1.0 with Windows Write.  Now Office 2010 has been selling for some time now, and while you might prefer other solutions like OpenOffice or the newer LibreOffice, Microsoft Office has a major foot hold in the Word Processing market.
With the release of Live services in 2005, Microsoft started to offer for free, online versions of their Word, Excel, and PowerPoint programs.  Microsoft's online services have now gone through 4 major updates/releases and currently offers Word, PowerPoint, Excel, and  OneNotebook.
Google moved into the online documents world with the acquisition of Writely, a Word alternative, in 2006.  Later support for spreadsheets, and presentations were added.  Currently Google offers Document, Spreadsheet, Presentation, Form, and Drawings.
The Contenders:
Google Docs:
Google Docs currently has these services:
Presentation
Spreadsheet
Document
Form
Drawing
Got it Right
In my opinion, the greatest, most powerful features that Google has successfully implemented with their online docs is collaboration.  Here at the Super User blog we have a Google doc set aside specifically for what's going on in the blog. There have been multiple times that we have been editing on the document AT THE SAME TIME!  The built-in chat on the side is also a significant plus as well as the ability to comment.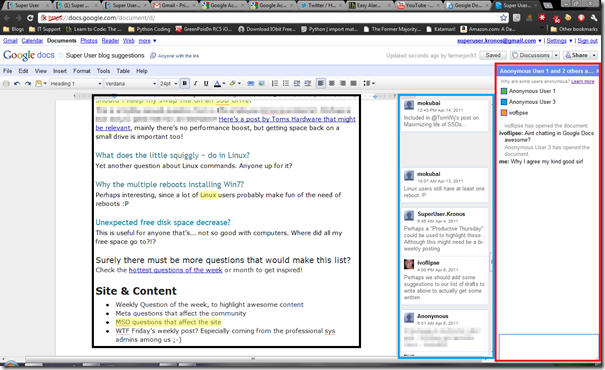 For a pretty amazing display of the power of Google docs and its collaboration check out this YouTube video:
Ermm… You need to fix this:
Google Docs is simple, and plain.  There really not a lot of ability to create a professionally looking document like you can with a more powerful document editor.  Spreadsheet also lacks the robustness that Microsoft Excel has.  There are times that Google Docs crashes, and this can be very annoying when you need to be working on something.  Luckily all changes are saved automatically, and you probably won't lose the data, but if you're editing a doc that's due soon, you want to know that you can edit with no problems.
Microsoft Online Docs:
Microsoft Currently offers these services:
PowerPoint
Excel
Word
OneNote
Got it Right
The OneNote online app does allow for collaboration, which is a nice step in the right direction.  The Excel, and Word web apps, have a greater selection of functions, fonts, and ability to customize the document.  I believe that most if not all function found within a full working Excel will also work within the online edition.  This is especially great for corporate documents that utilize some pretty complicated functions.
Ermm… You need to fix this:
This right here is one area where Microsoft is lacking extremely: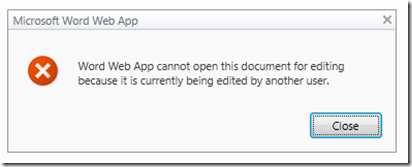 This is extremely frustrating.  I want to be able to edit my documents, whether or not I can collaborate or not.  If I'm working on a copy, and my partner is working on one as well, make two copies!
Even though OneNote allow for collaboration, I ran into this problem multiple times:

Finally, support for browsers other than Internet Explorer is minimal at best.  There were multiple times that I ran into this error with each app opened in Chrome:

Conclusion:
Google can clearly be declared a winner in the Online Web Document Apps category.  They have less bugs, more compatibility, and the ability to properly collaborate.  If Microsoft wants to really make a foothold in the "cloud" they need to put a major focus on changing their Online Documents, starting with collaborative editing.