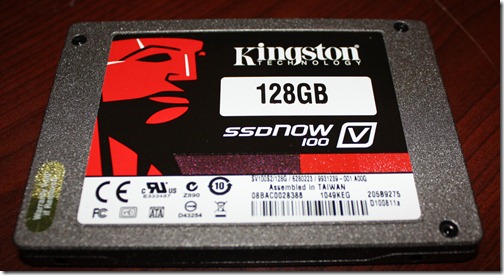 Now that we've done some extensive testing to the Kingston SSD v100 it's time to give the official review. Let's start off with what Kingston claims their drives can do (note all specs are according to SSDNow v100 128GB):
Sequential Read throughput of 250 MB/sec
Sequential Write throughput of 230 MB/sec
"Runs silent and cool with no moving mechanical parts"
Speed

:

Below is a graph of both read and write speeds during the 2GB file size benchmark: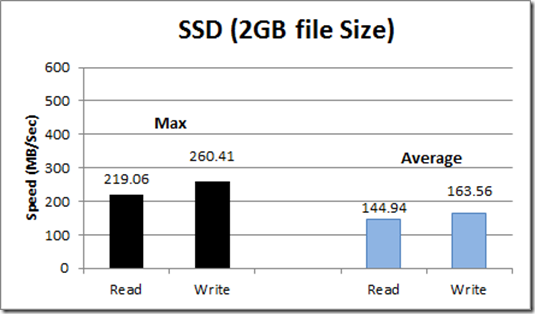 The max speeds were pretty close to what Kingston claims, however average speeds were a bit slower, in fact close to 100 MB/sec slower.
Application start times are quick as well. With a cold start of Photoshop in just under 5 seconds, Internet Explorer 9 in less than half a second and Outlook in about 1 second, applications start blazing fast.
Silence

and Cool

:
Pulling up speccy we can see that the SSD running on a Dell m1530 runs significantly cooler than the rest of the components: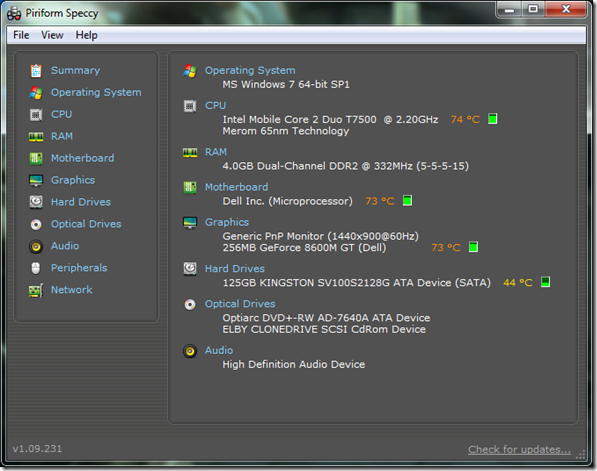 In fact one of my biggest complaints with Dell has been how hot the Hard Drive got during operating. With Kingston's SSD running at a cooler 44C, I haven't had a problem yet. Also with no moving parts, I've also noticed a drop in noise as well.
Installation

:

Installation of the drive was a breeze in both my desktop and also the laptop. Since I did a lot of comparison of the laptop drives I simply mirrored my original drive. The whole process took about 45 minutes from start to finish, but it should be noted that data from the source drive was being read via USB 2.0 connection and thus may have caused slower speeds. The software that came with the SSD's worked right away without any configuration and I even noticed that partitions were aligned correctly the first time.

I did a fresh install of Windows 7 onto the desktop. Installation took about 30 minutes as well from start to finish including driver installations, common application (i.e. chrome, 7zip, firefox etc.,) and even updates, including SP1 (this doesn't include download times).

With both the imaging and the fresh install, Windows 7 picked up the SSD's right away and enabled TRIM, which the Kingston drives support. The drive is also very light weight, which was nice as the Dell m1530 isn't a light laptop.

Packages:

The Kingston SSDNow v100 comes in two different flavors. The Desktop Upgrade kit: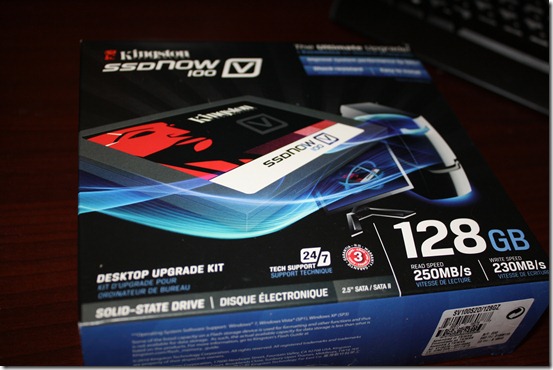 and the Notebook Upgrade kit: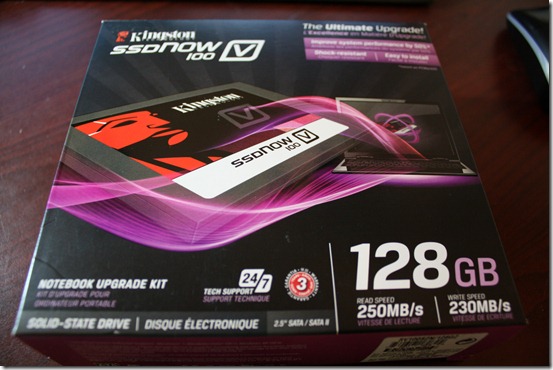 The desktop upgrade kit comes with: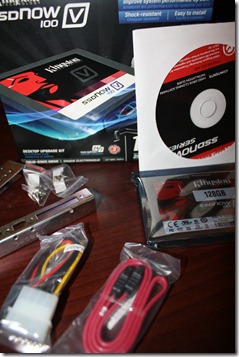 Brackets to install the 2.5" drive in a 3.5 bay
SATA cable
Acronis True Image software
IDE to SATA power cable adaptor
The Laptop upgrade kit comes with:
USB 2.5" SATA drive adapter case
Acronis True Image software
Here are some pictures of the adapter case: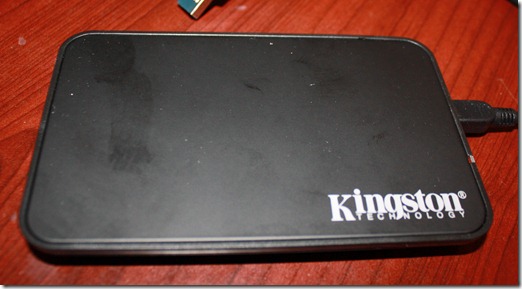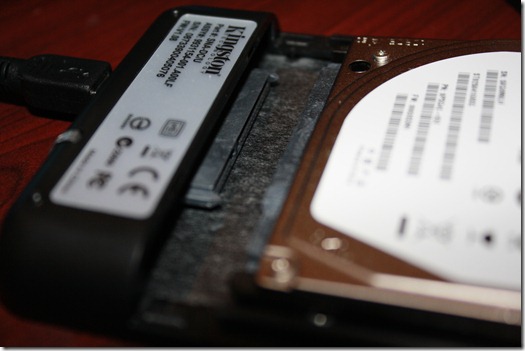 Untested features

:
Some other interesting features untested by us, of the Kingston SSDNow drives are:
Storage temps ranging from –40C to 85C
Operable during vibrations of up to 2G's!
Can withstand up to 20G's (not during operation)
6.4 W power draw during active operations
MTBF of 1,000,000 hours
Our Opinion:
After having put these drives through some thorough testing, we give our thumbs up to the Kingston SSDNow v100 drives!
Update:
I've been using the Kingston SSDnow v100 drives in both my laptop and my desktop for about a month now and they have been performing flawlessly. Speeds in both program launches and boot up times have been dramatically increased. Portal 2 load times on my desktop, which has two Kingston SSDv100 128gb drives raided at a RAID0, were almost instantaneous (within seconds). I've been very impressed thus far, and have nothing to say but good things.
Finally, if you didn't know and you own a Kingston SSDnow v100 drive, then you need to update the drives firmware, as there was a major update. You can find it on their website here.