Meet Matt Jenkins, a member for 2 weeks and already topped 2k rep!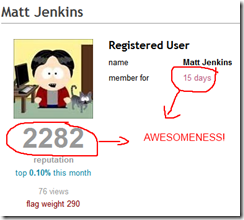 Because we believe this is so awesome, we decided to have an interview with Matt to figure out where he's been all that time and what his secret to getting so much rep is.
Q: Tell us a little about yourself, who are you and how did you grow up to become a Super User?
Well, I grew up as a child of the 70's and 80's (yes, with a Spectrum), and found myself being dragged in a computer-wise direction since childhood.  At school, in Computer Studies, I would often get told by the teacher to make my programs simpler as he couldn't understand them.From there I went off to college and studied electronics.  My favourite side was digital electronics – CPU design, logic circuits, etc, as it all made perfect sense to me. University was spent drinking and studying computing and business studies (well, actually playing around on VAX and DEC mini computers and learning VMS and Ultrix inside and out).  That was back when the Intel's DX 2/66 was the new hot thing around, and we had one lab with them in.  Linux was a plaything of geeks and nerds (so I played with it). Then I started work.  I worked for a local computer shop for a number of years, quickly finding my niche being knowledgeable in Unix and maintained a number of customers' Unix systems (Slackware 1.2, SCO Unix, Sun Solaris, etc), until the computer company folded when the financial director drank all the profits.  So I formed my own company with a friend that I worked with and we bought the old computer shop and re-opened it under a new name.  Business was good until Dell started selling uber-cheap computers and ate all our profits up.  So I jumped ship and went to work for one of our customers being their entire IT department. The company had a number of inter-linked sites (to begin with using serial multiplexers – urgh) so I taught myself advanced networking skills while correcting that issue and making their network good and fast.  That got boring working by myself, so when the network was pretty much running itself I got a job working for a bigger computer firm and managed their data infrastructure (We're talking 4 data centers, many hundreds of servers, etc). Then the recession came and that meant job cuts.  And of course, they cut jobs in the part of the company that showed the least profitable value – the IT Department.  I wasn't getting on too well with the management of that company – they had brought in a new MD and he was an (___o___) so I took the redundancy package and formed my own company. So that's where I am now.  MD of a small (but hopefully growing) computer consultancy specialising in Unix and networking.
Q: You're very new to our site, while we've been around for some time. So how did you find Super User and why did you decide to become a member?
I was looking for the answer to a problem (I forget what now) and found it on Super User.  I liked the site, and the idea behind it, so thought I'd contribute where I could.
Q: I can tell from personal experience that gaining 2k rep in 14 days is certainly a feat! You need to be quite knowledgeable to answer so many questions, so where did you acquire all this experience?
Mostly from either University, working in the field for so long, and just generally taking an interest and learning things.  I like to know things and I learn very fast.  I can also infer knowledge pretty well from smaller snippets of knowledge (I will admit I don't always get it 100% right, but I'm usually close).
Q: Are you more of a generalist or a specialist?
I see myself as both.  I have a reasonable amount of knowledge in many things (not just IT – I cook and do carpentry too), but the majority of my knowledge is based around Unix and networking.
Q: Is there a topic where we can expect you to be on top of things?
Advanced networking (such things as routing protocols, etc), FreeBSD configuration (that's my pet favourite operating system), and general PC diagnostic (I have had to do a lot of that in my time).
Q: In contrast with the previous question: are there any topics where you want to learn more in?
I am always looking to learn new things.  I am tinkering with learning C++ at the moment (I already know ANSI C and OOP from other languages like PHP)
Q: Can we expect to see you around on other SE-sites, like Web Apps, Android? Or are you more the Sci-fi or Fitness type? Or Cooking perhaps?
I popped on to the English website for a bit but found it all a bit too high-brow for me.  I do wander around the Unix/Linux site and Stack Overflow sometimes, but Super User is where I spend most of my time.
Q: Do you feel that Super User is welcoming to new users or do you think it's a bit scary for most visitors? Any thoughts on what could be done to improve the new user experience?
I have noticed that a large number of new users are often not native English speakers.  It can be hard understanding exactly what they are asking sometimes.  It may be nice for users to have some translation tools at their fingertips so they could get some good translations of some of the more technical terminology.
Q: Do you have any favorite question or answer that shows what you find so awesome about the site?
Any that I have answered 🙂  Seriously though, not yet.  I haven't been around long enough to have a favourite yet.  No doubt one will appear as a good candidate in the fullness of time.
Q: You probably haven't been around long enough to have a specific habit other than answering a lot, but what can we expect from you with regards to the moderating side of things, like editing, retagging or flagging stuff?
I have already been doing just that (though not a great deal).  I have edited a number of questions, and done a bit of re-tagging.  I am fast to jump on any spam that appears too.
Q: Do you have any questions you want to answer, but we were afraid to ask?
About the average size 😉
So there you have it! We all welcome Matt to Super User and hope he can keep up the good work. If there's any Super User you always wanted to ask a question, drop a comment to help us pick the next to interview. If you have any other questions for Matt, feel free to ask those in the comments too and we'll add them to the post!