Super User Question of the Week [14 Febuary 2011 – 21 February 2011]
Google's search results have been well… under the spotlight recently, including our very own Jeff Atwood.  Lifehacker did a poll  recently and discovered that nearly 77 percent of their readers think that "Google's search results are less useful".     But whether you agree that Google's searches are pure crap, God's given searching manna from heaven or something in between, there are always sites that you just don't want popping up in your searches.
This brings us to our question of the week by Sathya:
Is there a way to block specific sites from appearing in Google search? I'm looking for a browser add-on (preferably Google Chrome) – I don't want to create custom search engines or what-not.
Randolph Potter share with us that there is such a thing, and Google developed it themselves:
Personal Blocklist does exactly what you need.
Here's how it works.  You do a search and realize that there are some domains *cough* Experts Exchange *cough, cough* just isn't giving you the results that you want.  In fact you don't want to ever see that site again.  You wish you were able to just destroy the whole site (WARNING: this link will destroy not only sites upon command, but also countless hours of your time)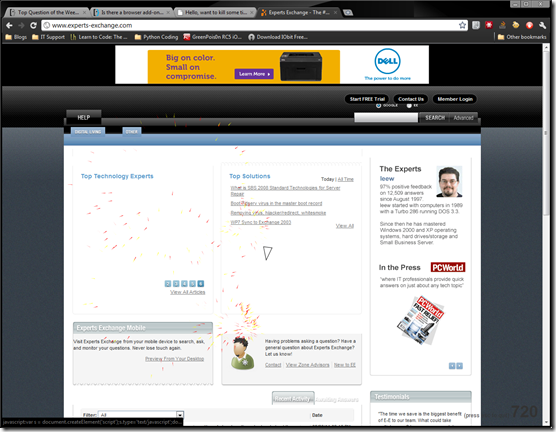 Unfortunately, unless you actually own the site, it's illegal to take down a site upon command.  But we can still ignore those search results with the Personal Blocklist.
Once you've determined that you don't like a search result, click on the "Block site" beneath the search result: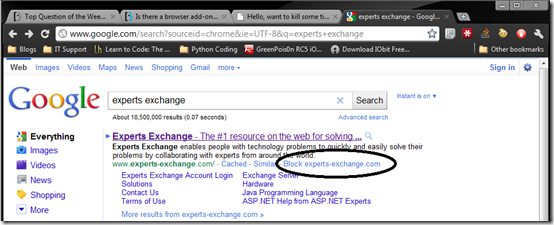 That's it!  Now the search results containing that domain will no longer appear in your searches.  If you want to customize it the just select the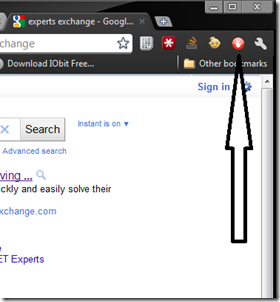 You'll get a dialog box like this:

Where you can unblock the site or even edit, like just blocking a subdomain of the site!
This solution, unfortunately only works for Google Chrome, but there is a GreaseMonkey script that you may be able to use instead as suggested by CyberDude.