Posts Tagged '64-bit'
In my previous post on 64-bit systems I was somewhat dismissive of applications being able to use PAE and other technologies to allow a 32-bit operating system to use more than 4GiB of memory.  We've since asked:
And the answer is, in truth, yes.  Yes, you can.  But it'll cost you and, probably, make your life difficult.  It'll also make people wonder why you wanted to try it in the first place too, what with all these new-fangled 64-bit processors and operating systems flying about using whatever memory they need to do whatever they like.
There are many technologies for achieving this, these include PAE, PSE, PSE-36, AWE (Windows), mmap (Unix/Linux) and they all have one thing in common: they require special support to use properly. In some cases forcing the issue means things can and will break, horribly.
TL;DR Version: All these technologies are there for developers. They provide no immediate solution for end users.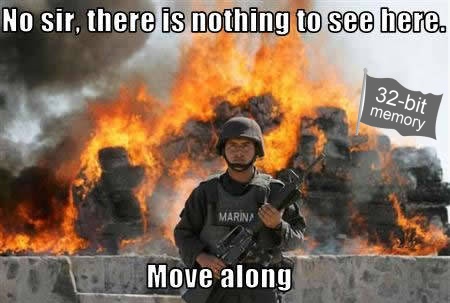 In this post we ask two related questions about downgrading.
and
Granted these are quite distinctly different intentions of end results, but they do share a lot of similar ramifications regarding what you are allowed to do within the scope of your Windows licence.
Downgrading 64-bit to 32-bit.
This not actually a real downgrade as it is simply changing the bit-ness of your operating system but people think of it as a downgrade as it is almost a step backwards in terms of compatibility.  If you have more than 3GB of memory then you should almost never consider this as an option as, for reasons I have already stated, you will be effectively crippling your computer.
I'm going to start again by using the Microsoft End User License Terms search tool and present in all versions of the EULA is the following section:
2.  INSTALLATION AND USE RIGHTS.

d.  Alternative Versions. The software may include more than one version, such as 32-bit and 64-bit. You may use only one version at one time.
We've known it was coming for a few years now but it only just seems to have sunk in, 64-bit is the way we're going and there's nothing we can do to stop it.
The main barrier to 64-bit computing isn't with any of the incompatibilities or changes to the way things work, though those did play a significant role in preventing uptake.  No, the main thing stopping people from fully accepting the world we're moving towards is that they have no idea why we need to change in the first place, let alone what those changes actually mean.
Just recently there has been a surge of questions like Can I legally downgrade from Win 7 64 bits to Win 7 32 bits? and How to check whether my hardware is 64-bit capable in Windows? as well as Windows 7 64-bit – More compatible with 32-bit apps than previous Windows? which just shows the general confusion and uncertainty where 64-bit is concerned.