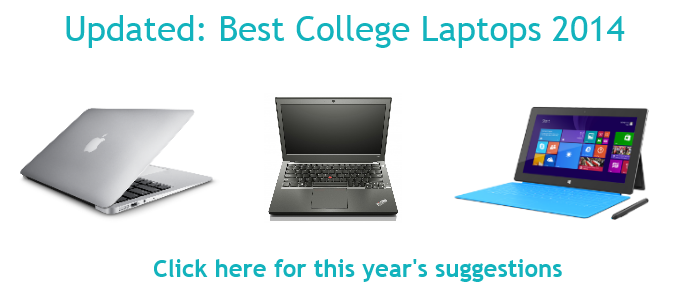 Note: The laptop recommendations below are over a year out of date. The 2014 Best College Laptops list has this year's up-to-date suggestions.
'Tis the season: as family and friends head off to college, the requests for laptop recommendations start rolling in. It's a semi-annual tradition for me to blog about my recommendations, so let's get started! If you haven't seen my 3 part series on "choosing a computer for college", check those posts out for some good background info that's mostly still relevant:
Since I wrote those articles in 2011, the computing landscape has shifted dramatically towards tablets, slates, and a plethora of weird hybrid devices. I'll be splitting up my recommendations into several categories: primary laptops, for students who plan to have a single laptop for all their needs; primary tablets, for students who plan to have a laptop-grade tablet as their primary device; and companion devices, for students who plan to have a desktop or desktop replacement, but want a small, light, and cheaper device for carrying around campus.
What category works best for you is a personal choice, but most students I know have a primary laptop, and a few have companion devices like Android tablets or iPads. I expect that having a primary tablet will become more popular though as touch hardware improves and becomes more economical.
General advice
Regardless of what mobile computing device you choose, here are the most important factors to consider for an academic environment:
Intel is releasing its new Haswell series of processors this summer, and has announced battery life improvements around 50% compared to current-generation Ivy Bridge processors. Once these are released, new laptops will have much better battery life and performance, and previous-generation laptops will come down in price. So: if you can afford to wait until later this summer to buy your laptop, you probably should!
With college comes a .edu email address. Use it to your advantage: you should be getting at least 10% off on any laptop purchases. All major companies have student discounts, here are links to a few:Consider a refurbished computer. Dell, Lenovo, and Apple all have online "outlet" stores where you can get refurbished computers in brand-new condition with a full warranty, often for several hundred dollars off the normal price. These are computers that were returned unused (or barely used). For example, an X1 Carbon can be had for $870 from the Lenovo Outlet, vs. $1200 new.

Get a computer that will last. It's better to spend more money up front and not have to replace your laptop in two years when it breaks. I'm lookin' at you, HP.

Weight and size matter more than you realize. Your classes will be far apart, your books will be heavy, and in some lecture halls your desks may be as small as a sheet of paper. The students I know who have heavy laptops rarely bring them to class, and complain bitterly when they do have to. Those of us with light laptops bring them everywhere. The number one regret I've heard with laptop purchases is "it's too heavy/large". Don't get anything over 5 pounds, and shoot for around 3-4lbs if you can. I wouldn't suggest a laptop any larger than 14″, and if you're considering such a large laptop, try one out in person first if at all possible.
Look up third-party reviews to figure out the real battery life. Nothing's worse than running out of battery half way through a three hour class. If you can get an extended battery, do. A larger battery adds weight, but a power adapter can weight just as much if not more (and is bulky too).
Get the highest resolution screen  available that you can afford. A higher resolution means there are more pixels on the screen, making everything look smoother and making it possible to fit more windows on the screen at once. This makes it a lot easier to work on assignments when you can put two windows next to each other comfortably.
Get a dual-band wireless card. The nomenclature is pretty variable here, but look for anything that says "dual band", "5 GHz", or supports "802.11a" or "wireless N b/g/n/a". Most universities will have a 5GHz wireless N network, which will experience less congestion and interference than the standard 2.4GHz spectrum. This option may cost extra, but I assure you it's worth it: in a crowded lecture hall, it can mean the difference between no internet at all and being able to browse whatever resources you need. In a dorm it can mean the difference between DSL speeds and speeds over 100 Mbps.
Don't pay money for antivirus software. There are plenty of free options, and if you get a computer with Windows 8 it'll have antivirus software built in.
Don't buy Microsoft Office, Adobe products, or any other "add on" software when you order your laptop. This type of software is typically available with huge student discounts either online or through your campus bookstore. Also, software you buy with your computer is non-transferable, while software you buy separately can be reinstalled on a different computer if you switch machines in the future.
Specific recommendations
Primary laptops
In my mind, there are really just two camps when it comes to laptops for college: ThinkPads and MacBooks. I'll mention a few other options, but hear me out first: you're (hopefully) going to be in college for about 4 years. You're going to be spending a significant amount of money on your laptop, and you're going to be using it daily for years. You want something that lasts. I made the mistake of getting an HP laptop for college, and not only did it die in less than 2 years, but every single person I know who got similar HP laptops had various problems. Three years later I only know 2 people whose HP laptops are still working at all, and there were about 20 of us who had similar laptops freshman year.
Both ThinkPads and MacBooks are known for their quality, and with student discounts can be reasonably affordable. You still might pay a little more up front, but you'll spend more money long-term if you have to replace your laptop sophomore year – not to mention the hassle of having your laptop die during finals week. I'm telling you this from experience, folks. If you do go for a different brand, try to get their business line if at all possible – for example, choose Dell's Latitude series over their Inspirons, or HP's ProBooks over their Pavilions. Business-grade laptops may not be as shiny, but they are much more durable.
For both ThinkPads and Macbooks you have two categories to choose from: thin and light ultrabooks, and heavier machines with more processing power. Ultrabooks tend to be more expensive and less upgradable, but are desirable for their weight and size. With Macs the larger computers aren't upgradable these days either, so it really comes down to what your needs are in terms of processing power.
ThinkPad T430 (from $680)
The T430 is on the heavier side for a  14″ laptop, but is one of the most versatile laptops you can get. Weighing in at 4.6 lbs (5 with the 9 cell battery), it has a full-power processor and many user-upgradable parts. Key features and specifications include:
Full-power Ivy Bridge Intel processors, from a 3.3 GHz  Core-i5 up to a 3.5 GHz Core-i7

One easy-access RAM slot (with a second slot under the keyboard). The default configuration comes with a single 4GB memory module, and it's easy (and cheaper!) to add your own second module after purchase.

SATA3 2.5″ hard drive slot, which is also easy to access and upgrade to an SSD (which is cheaper than preconfiguring an SSD).

UltraBay which can support a DVD writer (default), or a second full-size 2.5″ hard drive.

mSATA/mini PCI-E slot which can be used for either a WWAN mobile internet module or an mSATA SSD

Intel HD 4000 graphics, or Nvidia NVS 5400M switchable graphics

Webcam, optional backlit keyboard, Mini Displayport, VGA, USB 3.0, SD card reader, optional fingerprint reader

Optional 1600×900 (default 1366×768) display – this is a highly recommended upgrade!

6 cell or 9 cell battery

Various wireless options – make sure to get the Intel Centrino 6205 or 6300 to get support for 5GHz networks
ThinkPad X230 (from $760)
The X230 has similar specifications to the T430, but is smaller (12.5″) and significantly lighter at 2.96 pounds. It also has a full powered processor and is user-upgradable. This is probably the most customizable and upgradable laptop in this size range. Additional options include:
Full-power Ivy Bridge Intel processors, from a 2.4 GHz Core-i3, 3.1 GHz Core-i5, up to a 3.6 GHz Core-i7

Two easy-access RAM slots. Default configuration comes with a single 4GB memory module.

SATA3 2.5″ hard drive slot

No DVD or ultrabay slot

mSATA/mini PCI-E slot, which can be used for either a WWAN mobile internet module or an mSATA SSD

Intel HD 4000 graphics

Webcam, optional backlit keyboard, Mini DisplayPort, VBA, USB 3.0, SD card reader, optional fingerprint reader

Only 1366×768 screen, but there is an IPS display option. IPS screens have much better viewing angles and colors. This is a highly recommended upgrade!

3, 6, or 9 cell battery

Various wireless options – make sure to get the Intel Centrino 6205 or 6300 to get support for 5GHz networks
ThinkPad X1 Carbon (from $1200)
The X1 Carbon is the Ultrabook of ThinkPads, and is one of the nicest machines you can get. At 2.99 pounds it's about the same weight as the X230, but is thinner and has a larger screen at 14″. This machine is not user-upgradable – the RAM is soldered to the motherboard and the SSD is difficult to reach. Options include:
Low-voltage Intel Ivy Bridge processors, ranging from a 1.7 GHz Core-i5 (up to 2.6 GHz in turbo mode) to a 2.0 GHz Core-i7 (up to 3.2 GHz in turbo mode)

Soldered RAM, with 4 or 8 GB options

Integrated 128 or 256GB SSD

1600×900 display

Intel HD 4000 graphics

No DVD slot

Backlit keyboard (on all models), mini displayport, USB 3.0, SD card reader, webcam

Integrated non-replaceable battery, with typical usage of 5-7 hours
MacBook Pro Retina (from $1400)
All new MacBook Pros have Apple's "Retina" display, which has double the pixel density of a typical display. This gives you smoother images, but can also degrade graphics performance in some situations. These are available in 13″ (3.6 lbs, starting from $1400) and 15″ (4.46 lbs, starting from $2000) options.
All Macs can run Windows via Bootcamp, so even if you need Windows programs for school, you can still get a Mac. Many schools, particularly for engineering and computer science programs, provide Windows for free to students. If yours doesn't, make sure you factor the cost of a Windows license into your budget – although if you can afford a $2200 laptop an extra $100 for Windows probably won't make a difference. You can buy a Windows license for about $95 on Amazon.
MacBook Pros have standard Intel processors. None of the components are user-upgradable, so you're stuck with whatever SSD and RAM you configure at purchase time. Other specs and options include:
13 inch: 2.5-2.6 GHz dual core Core-i5 processors; 15 inch: 2.4-2.7GHz quad core Core-i7 processors

8 – 16GB of DDR3 RAM

13 inch: 128-256 GB SSD; 15 inch: 256-512 GB SSD

13 inch: Intel HD 4000, 15 inch: Nvidia GeForce GT 650M

Backlit keyboard, webcam, mini-DP (thunderbolt) ports, SD card reader, USB 3.0, HDMI

5 GHz dual-band Wireless N adapter
MacBook Pro (from $1100)
The MacBook Pro is similar to the MacBook Pro Retina, but has slightly lower specs and doesn't have the high-resolution retina displays, although the 15″ LCD does have a 1440×900 display. These are also available in 13″ (4.5 lbs, from $1100) and 15″ (5.6 lbs, from $1700).
13 inch: 2.5-2.9 GHz dual core Core-i5; 15 inch: 2.3 GHz quad core Core-i7

Up to 8 GB of RAM (upgradable)

500 GB HDD, optional 128, 256, or 512 GB SSD

Webcam, backlit keyboard, USB 3.0, mini-DP (thunderbolt), SD card reader, DVD drive, ethernet port

5 GHz dual-band wireless N adapter
MacBook Air (from $950)
The MacBook Air is Apple's Ultrabook offering, with 11″ (2.38 lbs, from $950) and 13″ (2.96 lbs, from $1500) options. Like the Retina macbooks, none of the components are user upgradable. The MacBook Airs have low-voltage Intel processors that will be a bit slower than a standard processor. Other specification options include:
Up to 2.0 GHz Intel Core i7 processor

Up to 8 GB of DDR3 RAM

Up to 512 GB SSD

Intel HD 4000 graphics

Webcam, backlit keyboard, USB 3.0, mini-DP (thunderbolt)

5 GHz dual-band Wireless N adapter
Those are the laptops I think are most likely to be sturdy, last, and have good specifications for college usage. Here are a few more options you might consider:
ASUS ZenBook
ASUS is a lesser known manufacturer that makes good looking and decent quality laptops. Their ZenBook line of ultrabooks has options including the tiny 11″ UX21A which weighs only 2.4 lbs and is 9mm tall at its thickest point, two 13″ models (the UX31A with a 1600×900 touch panel, and the UX32VD with a 1920×1080 non-touch display), and larger 14″ and 15″ versions.
Most models have low-voltage Intel processors, but the 15″ U500VZ does have a standard power Intel Quad Core-i7, a discrete NVidia GPU, and a 1920×1080 multitouch screen – making it one of the most powerful laptops to fit in a 0.8 inch, 4.9 lb package. The ZenBook line had some quality issues at first, but reviews indicate that they've improved substantially and are a good option. Other features (not necessarily available on all models) include:
Backlit keyboard

Webcam

Intel HD 4000 graphics, and some with NVidia discrete graphics

USB 3.0, mini VGA, mini DisplayPort, SD card reader

SATA III SSDs up to 256 GB

Some versions have 5GHz dual-band wifi
Dell Latitude Series
If you're going to get a Dell, look at their Latitude business line. These laptops are available in 14″, 15″, and 13″ versions with full powered Intel processors. Most of the Latitude series have options for 1600×900 displays, and have standard options for upgrading RAM and hard drives. In my experience, Dell's business laptops are of much higher quality than their consumer-oriented Inspiron laptops. Dell also sells a line of business-oriented laptops under the Vostro brand, but these are often just rebranded Inspirons, and are typically not as durable and have fewer options than a Latitude.
I would recommend the 14″, 4.4 lbs Latitude E6430 (starting from $720) specifically:
Metal construction with rugged hinges

Discrete graphics card option

High-resolution (1600×900) display option

SATA III SSD support

Optional 5GHz dual-band wireless

9-cell battery option
Samsung Series 9 and Series 7
Samsung's Series 9 is its high-end ultrabook category, and includes a widening variety of 13 and 15 inch laptops, ranging in price from $1000 to $1800. I haven't used one personally, but they've gotten good reviews and have good specifications. All of them – even the 15″ options – come in under 4 pounds, have SSDs, and include backlit keyboards and most have at least a 1600×900 display option.
If you're looking for a nice ultrabook but can't afford a Series 9, the ATIV Book 7 shares a similar design but with a slightly lower build quality, more weight, and a more lower price to match. Reviews have praised this laptop though for having the "best touchpad on a Windows laptop to date", and with a 1080p screen it's a good balance between price and features.
HP
Bahahahaha. Don't buy an HP. Seriously. You'll regret it. I knew at least 15 people my freshman year in college who had HP laptops (including myself – we all make mistakes!) and less than 3 years later every single one has had serious problems, and most of them have died. If you absolutely must buy an HP for some reason, get one of their business-grade ProBook or EliteBook models. If decide to buy an HP, make use of their HP Academy student discounts, and also look for coupon codes – coupons can't be used with student discounts, but are sometimes worth more. But really – don't buy an HP. You'll be reading the 2014 edition of this review next year when you're replacing your broken laptop.
Primary tablets
Tablets are becoming more powerful and more commonplace, and it's possible – even desirable – to do all your college computing on a tablet, especially if you have access to more powerful machines in a computer lab should the need arise. The distinction between primary tablets and companion devices is vague and depends on your usage scenarios, but I'm essentially categorizing anything with a laptop processor (capable of running a "normal" OS) as a primary tablet. All "specialty" OSes like iOS, Android, and Windows RT will be categorized as a companion device, along with cheaper x86 machines (under $500).
Microsoft Surface Pro ($1130 with type cover)
For all the hate Microsoft has received for Windows 8, using a Surface Pro starts to show you what Microsoft was thinking – and makes you realize that there's actually a lot of potential here. Although it's a bit awkward using a machine that's neither a laptop nor a tablet, but a little bit of both, I think college is the perfect fit for a device like this: it's light and easy to carry to class, but it has a full powered Intel processor that can run anything a normal laptop can. With the built in pen and digitizer you can make drawings and annotations in class, while simultaneously typing on the keyboard cover. With the Windows App Store growing by the day, and the ability to run any existing Windows program, you should be good to go across the board. My biggest concerns with the Surface Pro are its battery life (typically around 5 hours in reviews) and its awkwardness in your lap when using the keyboard cover. That being said, if I were buying a laptop today, I'd probably get a Surface. With a USB 3.0 port, mini DisplayPort, and a microSD slot, you can easily hook up an external monitor, mouse, and keyboard to spread out at your desk, too. The Surface is a very solidly built piece of technology, and feels like it will stand up well to daily use in a college environment.
Thinkpad X230t convertible tablet (from $1040)
Very similar to the X230 suggested above, this tablet hearkens from the days before slates. It's definitely a laptop, but the screen can be twisted 180 degrees and folded back to write on its surface with the built-in digitizer pen. It also has 10-point multitouch, enabling modern Windows 8 apps as well. Pretty much everything good I said about the X230 applies here, although it's definitely a bit large to use as a tablet. You wouldn't want to hold it in one hand for long periods of time, so while it may be good for taking notes and doing assignments in engineering and science classes, it's not going to double as an entertainment tablet the way a Surface or other slate would.
Lenovo IdeaPad Yoga (from $930)
Most reviews of this laptop use words like "interesting", "unique", and "novel" – polite ways of saying that it's actually pretty weird. The Yoga is absolutely a laptop, and at first glance you wouldn't even know it's a tablet. The hinge rotates almost 360 degrees, letting the keyboard fold up behind the screen so that you can use it as a slate. You can also rotate the keyboard back part way to stand the laptop up like a tent and just use the touch screen.  I don't see much point in doing that when you could just have the keyboard out, and use both the keyboard and the touch screen as you desire. Reviews have been generally positive, although its long-term durability has yet to be proven, and I don't think the form factor is for everyone. Nevertheless, it's worth checking into if you're looking for a tablet that can function as a full laptop.
ASUS VivoTab (from $775)
The VivoTab is one of many devices powered by Intel's CloverTrail Atom processors: low-power chips purpose-designed for Windows 8 to run standard Windows apps without harming battery life on tablets. This tablet includes an external bluetooth keyboard, which doesn't actually attach to the device. I haven't actually seen one, but reviews have been quite positive, especially with regards to the quality for the price. With 7.5 hours of battery life, it's one of the longer lasting tablets. Engadget's review goes into far more detail than I can, and if you're considering this device I suggest you read their thoughts.
Dell Latitude 10 (from $620 with keyboard dock)
The Latitude 10 has the same Intel Atom processors as the ASUS VivoTab and many other cheaper Windows 8 tablets. With the optional keyboard dock's additional battery, it's been measured as lasting as long as a whopping 16 hours! The dock isn't particularly portable though, and it "only" got 9 hours on the internal battery – still impressive for a tablet running normal Windows. More expensive editions include an active digitizer and stylus, which could be useful for artists or taking notes in class.
ThinkPad Tablet 2 (from $780 with keyboard)
Another entry in the Intel Atom category, the ThinkPad Tablet 2 has several perks: an active digitizer, a ten hour battery life, and one of the most comfortable keyboards you can find with a tablet. ThinkPads have always had fantastic keyboards, and this is no exception. The external bluetooth keyboard has a slot that the slate slides into to prop it up in "laptop mode", but it lacks any additional storage, battery, or connectivity options like the ASUS Transformer and Dell's options. There is an optional dock connector though that adds HDMI, ethernet, and extra USB ports.
Companion devices
These devices will fill your needs for having a computing device on the go, but probably won't be enough for all of your computer needs. If you already have a heavier laptop that you don't want to take to class, or perhaps a desktop computer, these cheaper and more portable devices may be for you.
Google Nexus 10 (from $400)
The Nexus is line of smartphones and tablets are built by other manufacturers to Google's specifications, and sold by Google. Built by Samsung and running Android 4.0.3 (Ice Cream Sandwich), this ten inch tablet is the latest in the Nexus series. Its claim to fame: a 2560×1600 screen – more pixels than the Retina iPad (or any other tablet, for that matter). Reviews suggest that Android apps handle the high resolution well, properly upscaling images and text. At 10″, this tablet is a good size for taking notes in class or looking up info during a lab. It doesn't come with any sort of keyboard though, so you won't be writing all your papers on here. With a dual-core 1.7 GHz ARM CPU, 2GB of RAM, and a separate graphics chip, this tablet isn't quite as fast as some other Android tablets, but will be sufficient for most casual users. With about 7.5 hours of battery life (that high-res screen sucks power), it's shorter-lived than some Android tablets, but should last long enough to get you through the school day.
Google Nexus 7 (from $230)
The Nexus 10's little brother, the Nexus 7 has been called the first "really good" cheap Android tablet. At only $230, it's hard to beat this tablet in terms of quality for the price. Given its smaller size, this tablet will mostly be limited to typing brief reminders and looking things up online, but it should perform well for those types of tasks. Despite (or because of?) its smaller size, the Nexus 7 gets almost 10 hours of battery life, which should be plenty for most students.
Update: an upgraded version of the Nexus 7 was released in July, 2013. Most of the info here hasn't changed, but the new version adds a higher-resolution display and a longer battery life.
Asus Tranformer Pad Infinity TF700 (from $380)
The Asus Transformer was one of the first slate-keyboard combos to show up, and this latest revision has added a full HD (1920×1200) screen and a micro SD slot, allowing you to upgrade its internal storage. The optional keyboard dock (which is frankly the whole point of this device, so consider "optional" to be "highly recommended) houses an extra 5 hours worth of battery, in addition to a full-size USB 2.0 port and a full-size SD card slot. It also has a touchpad for more laptop-like interaction, but most users will probably stick with the screen as the primary touch device. Although the keyboard makes writing out notes in class or typing up emails much easier, reviewers have labeled it as too cramped for writing long amounts of text, so you probably won't want it as your only computing device. The Transformer has decent internals too, with a quad-core Tegra 3 processor and 1 GB of RAM.
Microsoft Surface RT (from $450 with touch cover)
If Android isn't your thing, but you want a relatively cheap slate with an attached keyboard, the Surface RT may be for you. Unlike the Surface Pro, the Surface RT doesn't run a full version of Windows – it runs the new "Windows RT" which is like Windows 8, but lacks the ability to run normal Windows desktop apps. That means it'll run any "Metro" App in the Windows Store, but it won't run your existing games, image editors, or any of your school software like AutoCAD or Visual Studio. Windows RT does come with Microsoft Office 2013 built-in though – you get Word, Excel, PowerPoint, and OneNote – which sure is handy for taking notes or making presentations. If your school makes software available via Remote Desktop or through Citrix, you're in luck: the Surface RT supports both, which can allow it to function almost as a full-featured laptop.
The Surface's main selling point is its keyboard cover, turning the slate into a laptop when you click out the built-in kickstand. You can choose between the "type keyboard", which is a standard keyboard crammed into 3mm, or the "touch keyboard", which has no physical keys – just a large touch surface with keys printed onto it. I haven't had a chance to spend much time with a touch keyboard, but even after just half an hour of typing on it I was surprised by how much faster I was getting. Microsoft says it takes "about a week" to get used to the touch keyboard, and many online reviews have echoed the sentiment that the touch keyboard is weird at first, but grows on you.
Inside the Surface you'll find the same Tegra 3 that powers many Android tablets, as well as 2 GB of RAM and a battery that lasts a little over 9 hours. It also has some other perks not found on most tablets – such as a full-size USB port and a micro-HDMI port that can be converted to VGA for those classroom projectors.