With more and more media turning digital, Home Theater PC's (HTPC's) are making a larger presence within the homes of PC enthusiasts. Whether your starting from scratch, or upgrading an older pc, this multi-part guide is meant to help you in building your new HTPC.

Determine What You Want:
HTPC's can take care of ALL you media needs which can even ultimately either replace or add to your current media experiences:
Dvd/Blu-Ray Player
Central Audio Stations

Whether a PC, iPod, audio receiver, etc, you can replace all of these with a central HTPC (including streaming to those other devices)

Internet on TV devices
Internet Streaming Services (Pandora, Netflix, Hulu, etc,.)
DVR
Cable receivers
Photo Viewers/Servers
When selecting the parts, for your HTPC you need to figure out exactly which of the above devices you are looking to implement for your HTPC. For example, if you're all about audio, then a higher end video card isn't going to do you any good. So sit down and think about what exactly you want your HTPC to do for you.
Determine Your Budget: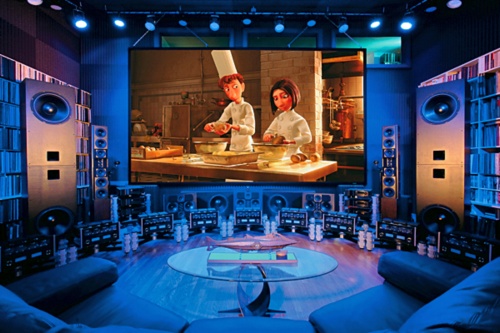 Building a HTPC can be cheap, but it can also be VERY expensive depending on what you decide to put into it. I suggest making up a budget and sticking to it. Keep in mind that these factors will go into what you select for parts of the HTPC:
Fast modern dual-core processor is required to decode H.264 videos in FullHD (1080p)
which means that if you are using your HTPC as a Blu-Ray or other HD video player then you need at least a dual-core processor.
Memory is PIVOTAL in ALL aspects of the HTPC. Whether you're using the HTPC as a sole video, audio, photo player, it needs enough memory to be able to fully handle all of the tasks it's given. I suggest at a minimum of 2 GB's of ram, but found from personal experience that 4GB is a good amount to handle everything that I've thrown at it so far.
Video cards are essential for Video playback on older motherboards. My personal HTPC (a dual core AMD mobo) wasn't able to 'smoothly' playback my 1080p backed up videos with the onboard video processor.
Determine Your Sources:
Old PC parts:
These are great because you don't have to pay for them! Don't count out all of your old computers either. Even though smooth playback of 1080p video requires a dual core processor, a P4 system can still take you a long way.
Internet Resources:
Most users already know about these sites, but I'm still posting them to give you a starting place for purchases:
Make the Purchase:
To build or not to build?
That's truly your question that you need to ask yourself. Personally, I love my creations, and love building them. But if you don't have enough time then you can cop out and purchase a pre-built system, or even one of these, a mini pc or nettop:
With these you can follow this guide from lifehacker on how to install XBMC live onto something like this.
Determine Your Media Interface:
There are three major HTPC software packages out there:
Media Center requires Windows to be installed for it to work, which means you need to purchase a Windows OS in order to use Media Center. Once installed though, setup is very easy, and can handle:

TV tuning, and DVR
Music Playback
Netflix
DVD/Blu-Ray playback (although blu-ray is actually 'out sourced to PowerDVD')
HD Video Playback
Photo streaming

Check this official guide for more info on Window Media Center
XBMC:
XBMC can run on ANY OS and also includes a 'live' option where you can run from a CD/USB and/or installed directly onto the system (this option is a linux distro that is installed and run in the background)
XBMC is meant to be easy to setup, but there are some things that just aren't as easy and need to be kept in mind when using:

Netflix DOES NOT WORK on linux version
Setup may require some complicated steps

However if you run into a issue with XBMC their wiki and community forums are a great help in figuring out issues.
XBMC's customizability is where is really shines, in my opinion. It's interface is way better looking that Window's Media Center:and there are plenty of official and unofficial add-ons out there..
Unfortunately I haven't messed with Boxee that much to know about it. However it does work on all OS systems, and appears to be easy to setup. You do have to register with the boxee site in order to download, but it free otherwise.
Here are some other useful links to look at when building a new HTPC: