This is the third part of a three part article, for parts two and three go to Part 1 and Part 2
Continuing our journey into the world of missing hard drive space I hope to impress on you one of the worst offenders for making your hard drive space disappear:
Programs Themselves
One of the absolute major problems cruft building up on your computer is using the programs you install.
Everything from Internet Explorer to Google Earth to Picasa, each and every one of them wants to be fast at what they do and every one of them uses your disk space to store their temporary files.
Some of these programs are quite careful and elegant about how much space they use, keeping only what they immediately need for speed on your disk or deleting everything over a certain amount.
Other programs, well, don't. Other programs store every last piece of data they got their grubby mits on. I'm looking at you Google Chrome, you and your ever increasing and seemingly unlimited disk cache. I don't care if I have a huge hard drive and you think allocating $SOMERANDOMNUMBER percent of it for your cache is acceptable, you can dang well work to a limit like every other sane piece of software. (note: when I wrote this my Chrome cache was sitting pretty at 1.5GiB and showing no signs of remorse for its actions)
So, what can you do about it all these programs leaving their droppings all over your nice shiney computer?
This thankfully is an area where you literally are spoilt for choice. There are all sorts of programs whose sole purpose is to get rid of all the accumulated rubbish on your hard drive. I'm going to show you my two current favourites for the job.
These are, in no particular preferential order, Piriform CCleaner and IOBit Advanced SystemCare 4. Both these tools have, in my opinion, their strengths and weaknesses and I have no qualms about using both of them at different times or one straight after the other.
They're both similar
Both of these programs have dedicated themselves to cleaning your computer out, and both of them come with a wide range of things they can do: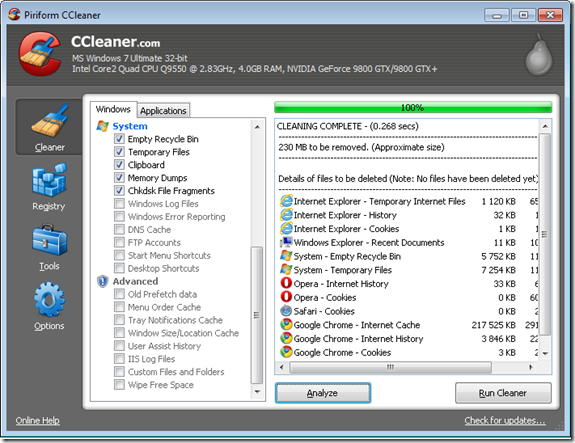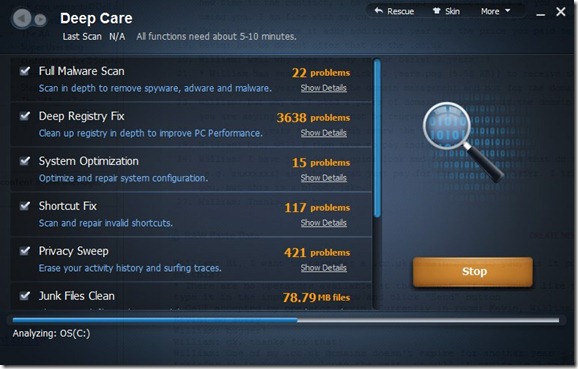 But in all fairness Advanced SystemCare4 (ASC4) has a lot more features for keeping your PC in tip-top condition on top of clearing out the trash. CCleaner focuses almost solely on the trash and so goes that bit further in getting rid of the unwanted bits. From CCleaners website: 'Historically the software was originally called "Crap Cleaner", but this was shortened to CCleaner to prevent any offence and to allow corporations to use it.'
But they're both different
CCleaner seems to know about all the big Browsers such as IE, Chrome, Opera and Firefox while ASC4 in its generalisation misses a couple. But this is why I use them both, each one catches things that the other misses. CCleaner will happily rid me of that 1.5GiB Chrome cache, while ASC4 will rid me of all the other rubbish that programs leave around the system and keep me safe and secure.
Courtesy of How-To-Geek there is even CCEnhancer to allow it to get rid of yet more stuff.
Both together or one at a time, CCleaner and ASC4 are an awesome duo for cleaning out your system.