With more and more media turning digital, Home Theater PC's (HTPC's) are making a larger presence within the homes of PC enthusiasts. Whether your starting from scratch, or upgrading an older pc, this multi-part guide is meant to help you in building your new HTPC.
Missed part 1? Check it out here.
Once you've purchased your system, it's time to build it. I'm going to go over the specific specs of the system that I built (as well as some other options), and the overall price of it, but this doesn't meant that you have to build the exact system I did. There are plenty of other opinions out there, and the goal of this guide is for YOU to build YOUR system. As I go along, I'll give you hardware specific tips that will hopefully help you in building your customs HTPC.
The Case
In my opinion the case is one of the most important things to select for your HTPC and its entirely because of show. This is the one thing that other people are going to see (or not see) of your HTPC and it needs to look good. What you need to look for is either something that you can hide away, or something that will look natural with all your other devices.
I had a very difficult time figuring out what I wanted to get and even looked into getting a touch screen case but decided against it due to lack of funds. (If you are looking for a touch screen, Tom's Hardware has a great review of three.)
I finally ended up purchasing the SilverStone LC13-E Case:
This isn't a small case, but I wasn't looking for a super small one. I'm trying to build a system where I can store and watch all my movies and music, which means that I need a lot of hard drive space, and room to store it in. I also want a system where I can play games as well, and that means that I might have to get a larger video card than the low profile ones.
The look of the case is very sleek and not in your face with flashy button and lights. The front of the case opens up to reveal the drives and usb ports that are on the front. Even with it's size, a quick glance at the system will generally give the feel of a typical media device in your home. It look a lot like an Audio Receiver to me.
If you're looking for a smaller case then you might try one of these:
The one on the left is a lower profile case, and the zotac is a net top. The net tops are great for just tucking away and forgetting about the device. It's small and compact.
Over all, when selecting a case here's what you need to keep in mind:
Are you going to rip/store you media on this machine or stream to it

If you stream then a smaller case will do

Are you planning on using the HTPC as a gaming system as well

You may need to purchase a video card that's larger than the low profile

What type of cooling system are you going to use

Some CPU fans are quite large and won't fit into the smaller cases

Does it look nice?

Yes! This is SUPER important. You don't want a butt ugly device sitting next to your TV.
The Motherboard/CPU Combo
Jeff Atwood decided to upgrade his HTPC and as a consequence of his great charity gave me the barebones of his old system. So I didn't have to purchase the Motherboard/CPU. This is where using old parts comes into play. If you happen to have an old dual-core system, you can easily convert it into a HTPC and save money along the way. But this can also become a dual edged sword.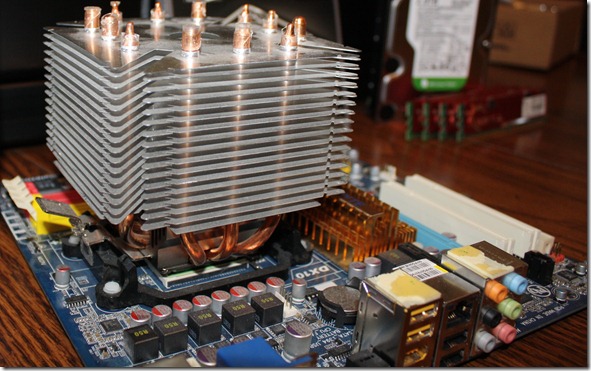 If you use older parts you have to purchase older parts to upgrade, which isn't always the worst thing, but can be limiting to your abilities with the HTPC. Efficiency has also come a long way since the first dual-core processors came out. That means that an older machine, can take more power to run, and thus cost you slightly more on your electric bill.
If you decide to purchase your own mobo/CPU combo, then keep these things in mind:
You NEED at least a dual-core processor to properly playback any 1080p digital content
Smaller is better in this case. You don't need full ATX motherboard for your HTPC.
On-board Video on newer motherboard/CPU combo's can be a money saver

The gigabyte mobo that I have has an on board video, but it's not strong enough to handle the h.264 content, however the newer mobo can really handle them now.
If you do onboard video, look for HDMI or DVI connections

Most motherboard now come with surround sound outputs but are in 'headphone jack' wires. I suggest making sure that a digital output is present for your audio receiver.
The Memory
Memory is pivotal in operating a HTPC. I personally recommend at least 4 gbs of ram in the system. This appears, again in my personal experience, to be the 'sweet spot' for PC's to handle higher definition video playback and streaming.
Jeff's system already came with 2GB of G.Skill DDR2 800 memory. I decided to stick with that and just purchase two more sticks, bring my system up to the 4 GB sweet spot: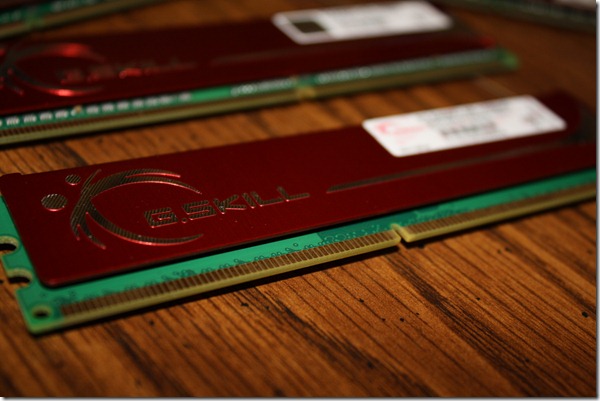 When selecting memory for you HTPC keep these things in mind:
If you're going to use older memory and just add I suggest keeping the same brand and speed. I've had personal problems when mixing the two
Lower voltage = less power consumption which is great for an all the time on HTPC
The Data Drives
I have two hard drives in my system. A seagate momentus xt hybrid which I had from a previous laptop, and a Western Digital 2TB Green Drive. The hybrid drive is great because it reduces boot times, and app start times. It's also got the space for my games, and other programs that I may decide to install onto the system.
I decided to go with the green drive to hold all my music and videos. Since the system isn't always going to be using the drive, having it spin down to a lower speed is great for conserving power. My only worry was performance, since it's a lower speed drive, but thus far, I haven't had any issues.
If you decide to have a central server, and stream the media to your HTPC then purchasing a large drive obviously isn't the best option for you. However, you might consider purchasing an SSD for your OS drive instead. This will definitely boost boot and app speeds, but may also speed up the streaming as well.
The Blu-Ray Drive
No HTPC is complete without a Blu-Ray Drive. I went with the Samsung brand, but highly recommend the LG brands as well. When it comes to Blu-Ray drives I'm a stickler for name brand, but honestly most other drives work fine.
If you're interested at all in 3D movie playback, then make sure you get a 3D enabled blu-ray drive. They'll cost you about $40 dollars more but that's better than a new 3D blu-ray player.
The Video Card
I tried to stay away from getting a video card into my HTPC since it already came with an on-board video, but after some streaming issues with NetFlix and playback of the 1080p content, I finally succumbed. I pulled out my old video card, a nVidia 9500 GT, and put it in and immediately saw a difference. I suggest that if you've purchased or are using an older dual-core mobo with on-board video, to look into buying a video card. It doesn't have to be top of the line, but just something to take the load of the CPU's back.
If you're interested at all in 3D movie playback, then you're going to need a video card that is 3D playback compatible. I don't know of any on-board video chips that handle 3D playback just yet.
The Remote/Game Controller/Keyboard
I purchased a remote control for my HTPC, cuz well I don't want to have to use my keyboard and mouse all the time. I went with the Rosewell Vista IRC remote. So far it's done really good.
A simple remote though, isn't always going to cut it. I am currently using a simple keyboard and laser mouse, but there are some really great media center keyboard out there with integrated mousepads. I'm personally going to set it up with my iPhone/iPod touch and leave it at that.
Finally, if you plan on gaming at all, you need a gamepad. I have a logitech gamepad similar to this one:
and I also have a xBox 360 controller that works just fine with windows (and Halo for PC).
Final Specs and Prices:
Total price came out to be $353! That's a pretty good deal for a HTPC.